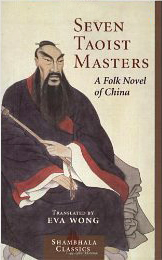 Seven Taoist Masters
A Folk Novel of China
Translated by Eva Wong
We who cultivate the Tao must bear whatever hardships beset us. Otherwise we will not be able to attain the Tao.
Purchase this book
Charitable deeds are not meant to be a public performance. If you display compassion in order to show others your virtue, then your actions are empty of meaning. No matter how much you give to the poor, if you are doing it only to impress others, it is not charity.
During the Sung dynasty (960-1270 C.E.) in Shensi Province there was a small village of some 100 residents, called Ta-wei. Most of the villagers belonged to the Wang clan. In this clan was a widow about forty years old. She had a son and daughter but now both had married and left home. This woman had a kindly and maternal nature and would treat all the children in the village as her own. She gave them food and gifts, and would comfort them if they were hurt. All the children knew that if they needed help they could call on her. Her kindness was so well known that the villagers called her Mother Wang. Mother Wang was also quite wealthy and deeply religious. She invited Buddhist and Taoist monks to her home for vegetarian dinners, gave sizable donations to the monasteries, and chanted the sutras regularly. Even beggars and orphans from neighboring villages would come to her for help.
One winter it was unusually cold. Snow fell in thick drifts on the ground, and the wind blew hard. The streets were deserted; the entire village seemed desolate. One cold, dark evening two beggars arrived at the home of Mother Wang, asking for food and shelter. When Mother Wang saw them she said, "You are young and strong. Why are you begging? Why can't you find an honest trade instead of living off the charity of others? If you expect help from me, you must be out of your minds!"
Scarcely had she finished talking to the beggars when a Buddhist and Taoist monk arrived, asking for rice and vegetables. Immediately Mother Wang sent for a servant to fill the begging bowls of the monks with food. When the monks had left, the two beggars asked Mother Wang, "Kind lady, why is it that you gave food to the monks and not to us?" Mother Wang replied, "I gladly attend to the needs of the monks, because although I give them a bowl of rice and vegetables, in return they give me more. The Buddhist monk can chant for me so that no disasters befall me. The Taoist monk can teach me methods of prolonging life. But you? What can I get in return for helping you?"