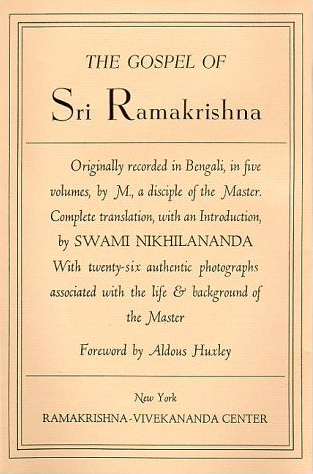 The Gospel of Sri Ramakrishna
Translated by Nikhilananda
God can be realized by true faith alone.
Purchase this book
It was on a Sunday in spring, a few days after Sri Ramakrishna's birthday, that M. met him for the first time. Sri Ramakrishna lived at the Kalibari, the temple garden of Mother Kali, on the bank of the Ganges at Dakshineswar.
M., being at leisure on Sundays, had gone with his friend Sidhu to visit several gardens at Baranagore. As they were walking in Prasanna Bannerji's garden, Sidhu said: "There is a charming place on the bank of the Ganges where a paramahamsa lives. Should you like to go there?" M. assented and they started immediately for the Dakshineswar temple garden. They arrived at the main gate at dusk and went straight to Sri Ramakrishna's room. And there they found him seated on a wooden couch, facing the east. With a smile on his face he was talking of God. The room was full of people, all seated on the floor, drinking in his words in deep silence.
M. stood there speechless and looked on. It was as if he were standing where all the holy places met and as if Sukadeva himself were speaking the word of God, or as if Sri Chaitanya were signing the name and glories of the Lord in Puri with Ramananda, Swarup, and the other devotees.
Sri Ramakrishna said: "When, hearing the name of Hari or Rama once, you shed tears and your hair stands on end, then you may know for certain that you do not have to perform such devotions as the sandhya any more. Then only will you have a right to renounce rituals; or rather, rituals will drop away of themselves. Then it will be enough if you repeat only the name of Rama or Hari, or even simply Om. Continuing, he said, The sandhya merges in the Gayatri and the Gayatri merges in Om."