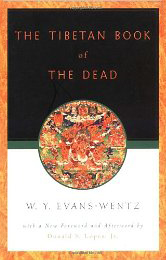 The Tibetan Book of the Dead
Translated by W.Y. Evans-Wentz
O nobly-born, by not recognizing now, and by fleeing from the deities out of fear, again sufferings will come to overpower thee.
Purchase this book
Book I
The Chikhai Bardo and the Chonyid Bardo
Herein lieth the setting-face-to-face to the reality in the intermediate state: the great deliverance by hearing while on the after-death plane, from 'the profound doctrine of the emancipating of the consciousness by meditation upon the peaceful and wrathful deities.'
Death's Messengers
All they who thoughtless are, nor heed,
What time Death's messengers appear,
Must long the pangs of suffering feel
In some base body habiting.
But all those good and holy men,
What time they see Death's messengers,
Behave not thoughtless, but give heed
To what the Noble Doctrine says;
And in attachment frighted see
Of birth and death the fertile source,
And from attachment free themselves,
Thus birth and death extinguishing.
Secure and happy ones are they,
Released from all this fleeting show;
Exempted from all sin and fear,
All misery have they overcome.