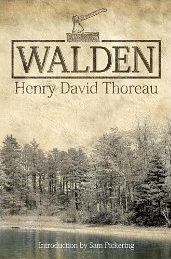 Walden
Henry David Thoreau
This is a delicious evening, when the whole body is one sense, and imbibes delight through every pore.
Purchase this book
The Musketaquid, or Grass-ground River, though probably as old as the Nile or Euphrates, did not begin to have a place in civilized history, until the fame of its grassy meadows and its fish attracted settlers out of England in 1635, when it received the other but kindred name of Concord from the first plantation on its banks, which appears to have been commenced in a spirit of peace and harmony.
It will be Grass-ground River as long as grass grows and water runs here; it will be Concord River only while men lead peaceable lives on its banks. To an extinct race it was grass-ground, where they hunted and fished, and it is still perennial Grass-ground to Concord farmers, who own the Great Meadows, and get the hay from year to year.
"One branch of it," according to the Historian of Concord, for I love to quote so good authority, "rises in the south part of Hopkinton, and another from a pond and a large cedar swamp in Westborough," and flowing between Hopkinton and Southborough, through Framingham, and between Sudbury and Wayland, where it is sometimes called Sudbury River, it enters Concord at the south part of the town, and after receiving the North or Assabeth River, which has its source a little further to the north and west, goes out at the northeast angle, and flowing between Bedford, and Carlisle, and through Billerica, empties into the Merrimack at Lowell.